How to create a website in 2020
The easiest step-by-step guide for complete beginners.
With the advancement of programming, anybody can now build and design a website from scratch even without knowing anything about web development, design, or coding.
You may be interested to create a website for your own business, or even looking to venture into the web development industry, you can easily do so by using the right tools and resources. 
This comprehensive step-by-step guide will assist you in creating a website from scratch without having to burn a hole in your pocket by hiring companies and freelancers.
All you need is 1-2 hours of your free time to complete the guide and set up a website.
Here's a checklist of things you need to create a website.
Domain Name (your own personalized domain name, e.g. www.yourbusiness.com)
Hosting Server ( A server or service that hosts your website, Read about the best hosting providers)
WordPress (Free, super customizable website platform)
To build a fully functional website, you only need two things, a domain name (web address) and a web hosting account. These two will make sure that your website is fully accessible to anyone. Without one or another, you won't be able to set up a website completely.
Once you have your domain name and a dedicated hosting provider, you can create a WordPress website. WordPress is the most popular website building platform that currently powers 35% of all the websites on the Internet.
Fortunately, you don't have to install WordPress the traditional way through FTP. Setting up a WordPress site is now an easy, one-click process that most web hosting service provides.
Once you've finished the guide, you'll have a fully working website online, corresponding to a custom domain name, and fully accessible by others.
Ready? Let's get started…
Step 1 : Choosing a domain name and TLD
In order to build a website, a domain name is the very first thing you'll need.
Essentially, The domain name is your website name and address. This address will be used by your visitors when they attempt to find your website. 
TLD's (Top-Level-Domains) are the ending of your domain name. The most common TLD is ".com". Choosing a TLD for your website will be explained below.
This website's domain name is majorventures.com.my. It's the same when you look at the top of your browser's screen. Yours can be anything.
Domain names can cost varyingly from $10 to $50 a year. Usually, it is around $15.
If you haven't registered or decided on a domain name for your website, here are some tips to help you out:
If you're creating a website for your business, your domain name should be the same as your company name. For example: YourCompanyName.com
If you're planning to build a personal brand by setting up a personal website for yourself then YourName.com would be the most common option.
Use a "generic" TLD such as .com, .net or .org if your targeted audiences are international visitors. Use a "local" TLD such as .de, .fr, or .ru if your targeted audiences are local.
If your preferred domain name is already taken, you don't have to worry. There are more than 300 million different domain names registered, but there are a billion other possibilities that are still available.
If you don't have a domain name yet, you don't need to purchase one right now.
We'll show you how to get a domain name for free during the first year (step 2):
Step 2 : Get a Web Hosting Service
The next step to building a website is to sign up with a hosting provider (website hosting).
Web hosting providers are companies who rent their server space to host and store your website files (content) on a secure, protected server that is always up and running.
Without a web host, there is no server to host your website, which means your site won't be searchable or accessible by visitors.
Affordable and reliable web hosting for new websites costs usually range between $3 to $10 a month. Less than a cup of coffee, but perhaps the most important investment for your website's success.
You can sign up with any web hosting company, but make sure it has the following features:
FREE domain name
Unlimited SSL Encryption for all websites
One-click-install for WordPress (free)
Custom email accounts
Unlimited or unmetered bandwidth (no traffic limitations)
Customer support, preferably 24/7 live chat
If your web hosting provider offers all of the things above, you've likely found a good provider.
We recommend using Bluehost.com for your web hosting and domains. They offer all new customers free domain registration for the first year. Plus they provide the most value for money with their shared hosting plans. Bluehost also provides 24/7 live chat support if you ever require any assistance from their team.
Bluehost hosting plans start from $2.95/mo with our discount link and offer all the essential features for setting up a website.
1) To get a web hosting account, simply visit Bluehost and click on "Get Started Now".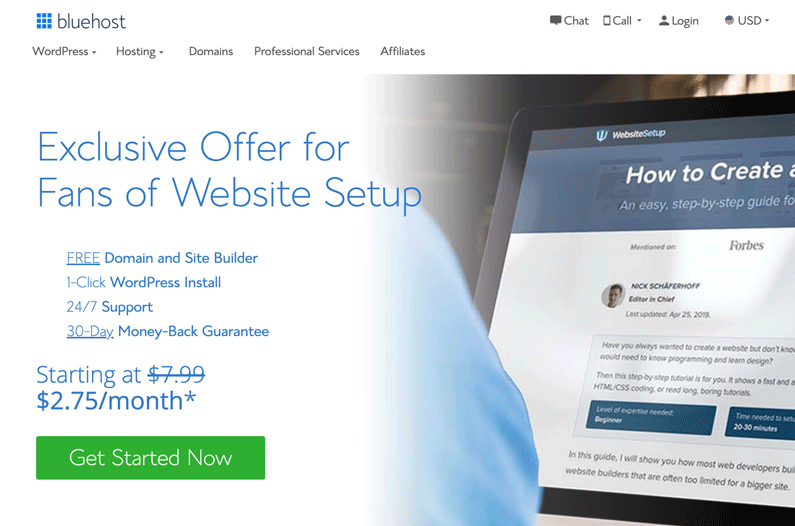 2) Next, choose your web hosting plan (choice plus is fully unlimited, while basic is best if you're only building for your business):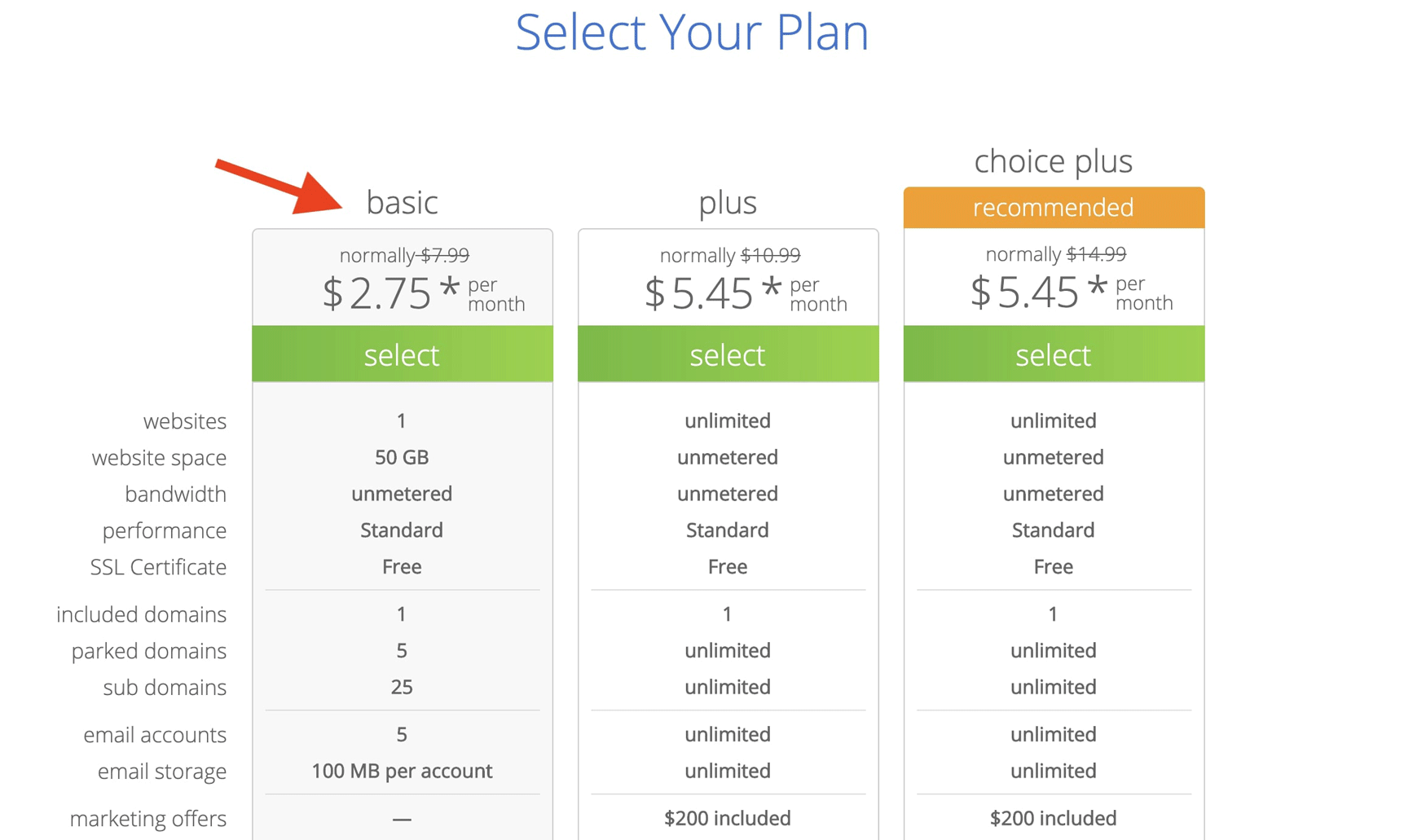 3) Next, choose and register a domain name (free for the first year):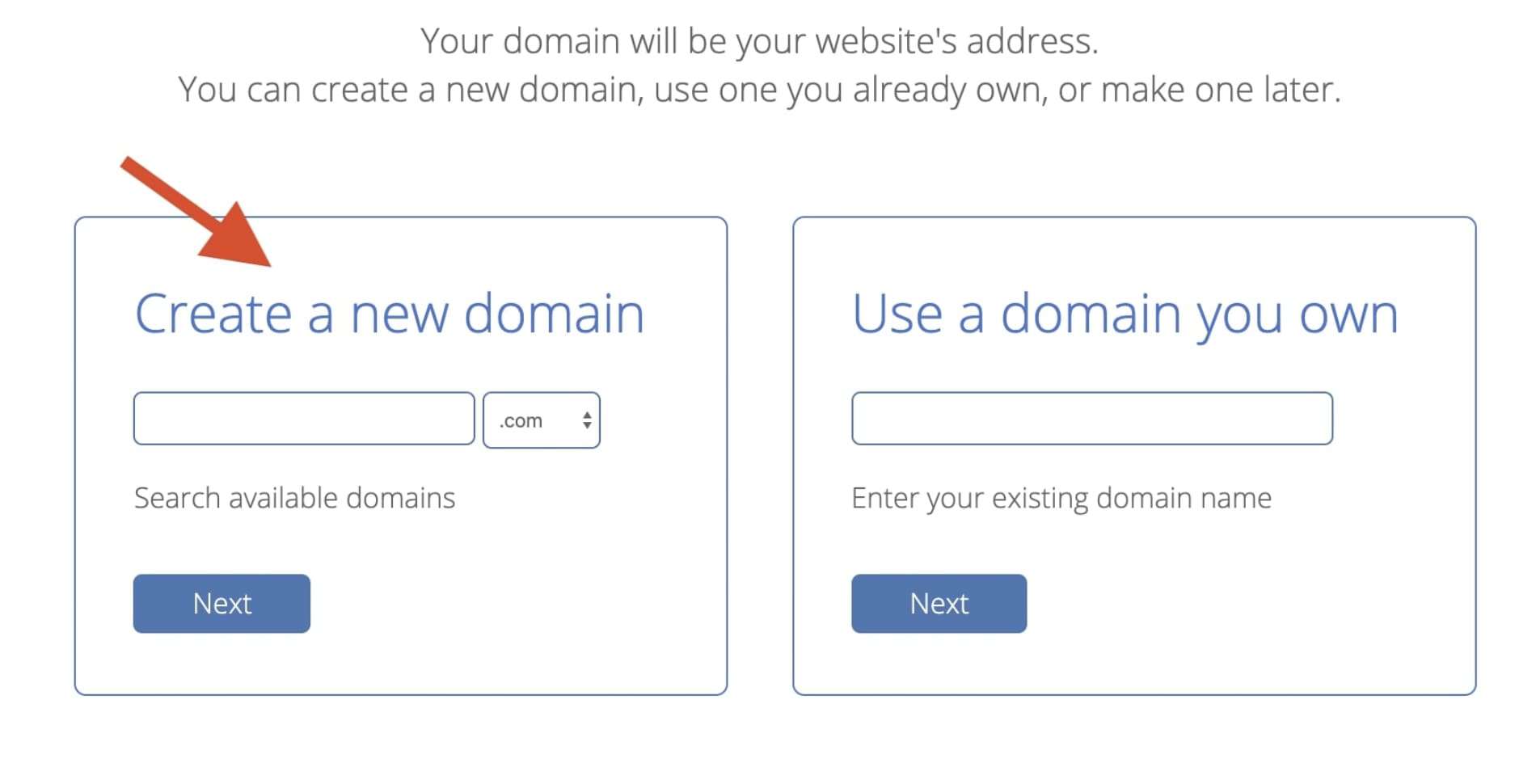 However, do keep in mind that Bluehost doesn't offer country-specific domain endings, such as.de, .fr, or .ru. If you need them, you can buy these from Domain.com or Exabytes.my (for Malaysians) separately.
If you have already purchased a domain name somewhere else, you can direct it to your new hosting plan with Bluehost. There are additional steps required here – like updating your name servers. Here's a guide from Bluehost on how to do that.
4) Once you've completed your registration process it will take a few minutes to get instant access, so you can start building your website right away.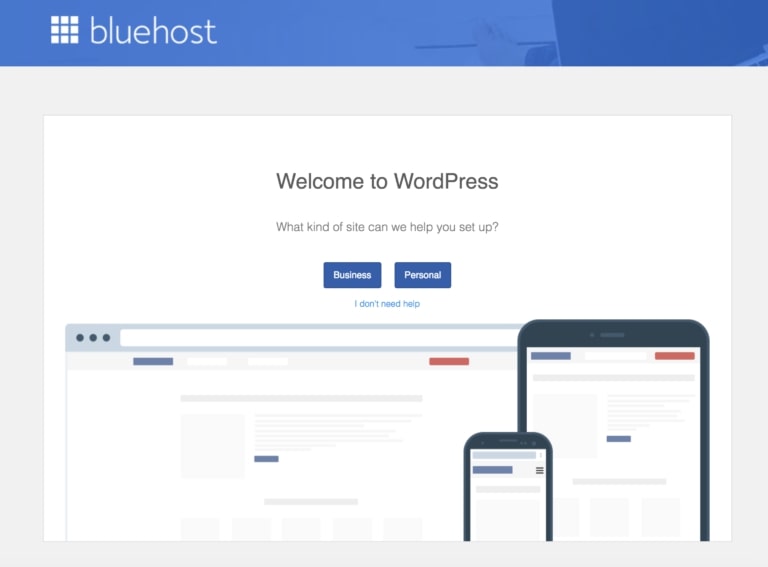 Step 3 : Setting up a WordPress Website (Through Web Hosting Provider)
Once you have your domain name and web hosting up and running, you'll have to choose and install a website building platform (also known as CMS).
In this article, We will be showing you how to build a website with WordPress since it's user-friendly and comes with thousands of free web templates and add-ons that will make your website look professional and unique.
Setting up your WordPress website is easy. Most of the time, your web host will do it for you, as they often provide one-click WordPress Installation services.
If you don't use Bluehost as a web hosting, don't worry. Many web hosting providers have "WordPress install" located somewhere in the dashboard. If you can't find it, try getting in contact with their support and have them guide you. If you are dealing with a web host that doesn't provide "one-click installs", try setting up WordPress manually.
1) Installing WordPress Website on Bluehost
Log in to your Bluehost account
Click on "My Sites" and then click on "Create Site"
Provide some basic information about your site, and the WordPress installation will start. This whole process is automatic.
When the setup is done, Bluehost will show you the installation and login details. Be sure to save this information somewhere safe. We recommend you to take a screenshot and save it somewhere on your desktop or a USB flash drive.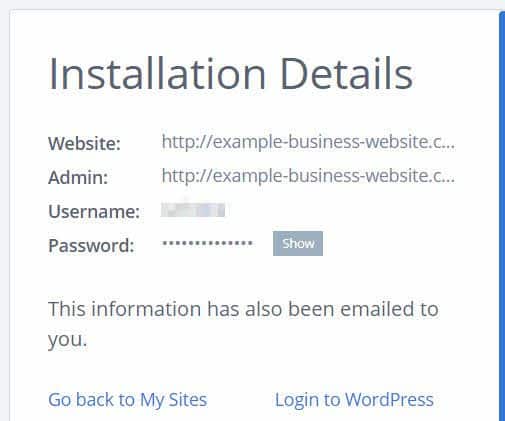 2) Test Your Website By Accessing It In Another Tab.
With WordPress installed, what you should do next is test if everything works.
The easiest way to do that is to type in your domain name into the web browser.
If WordPress was installed correctly, the first thing you'll see is a very basic website like this: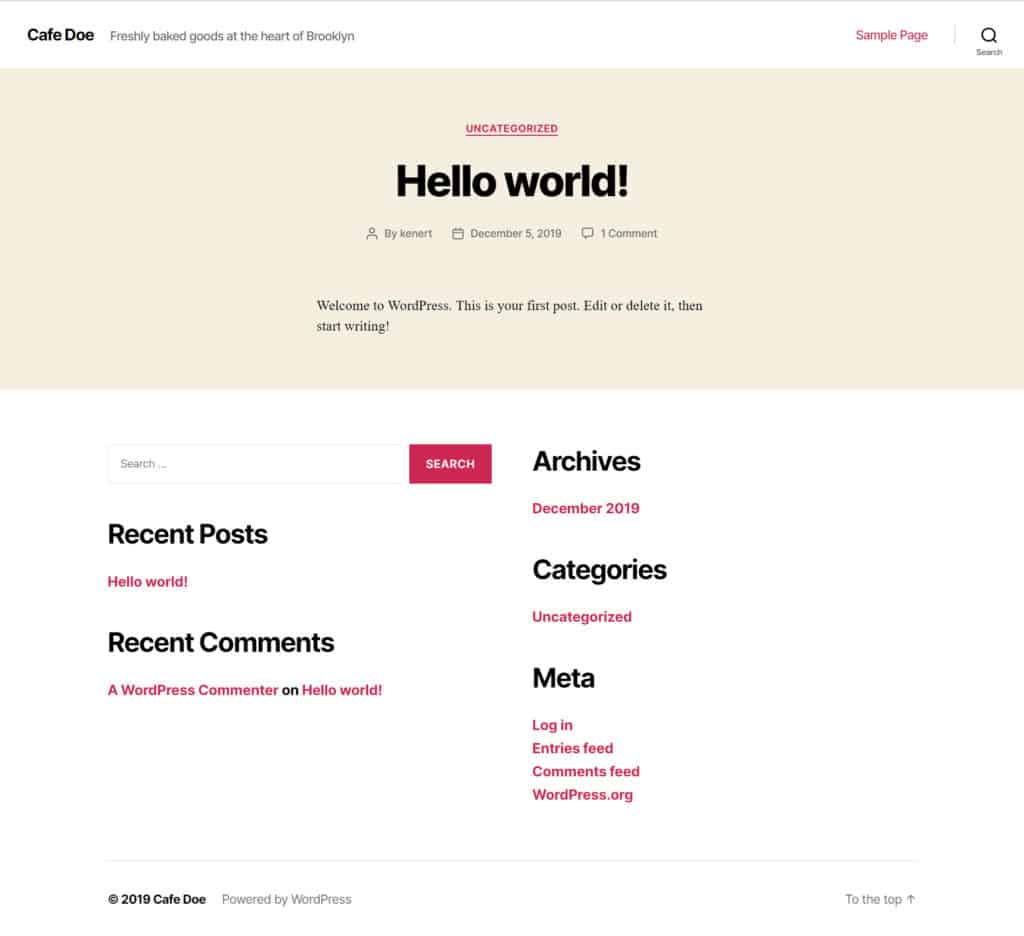 We know this doesn't look very appealing or attractive, don't fret. you'll soon learn how to change the design of the website later on in this article.
3) Verify SSL/HTTPS Settings
An SSL Encryption on your websites ensures your website is displayed to your visitors securely. It also gives your website a basic security from cyber attacks.
Generally, Bluehost installs the SSL encryption automatically whenever you create a new  website. To verify your site's SSL status, do these steps:
Log in to your Bluehost portal
Click on "My Sites"
Find your site and click on "Manage Site"
Go to the "Security" tab
Under "Security Certificate," you will find your "Free SSL Certificate" status
If the SSL Encryption was installed correctly, you should see a lock icon next to your domain name.
Sometimes it may take a few hours before the SSL is set up completely. In the mean time, you should head to your website to build and design its appearance.
Step 4 : Customizing Your Website Appearance
Now that your bare website is live, now we get to the exciting part, adding brand and design elements to give it a unique appearance.
Let's start with:
1) Choosing a Theme for Your Website
WordPress themes are comprehensive design packages that can alter the appearance of your entire website. WordPress themes are interchangeable and you can switch from theme to theme easily.
Most importantly, there are thousands of free and paid WordPress themes available on the web.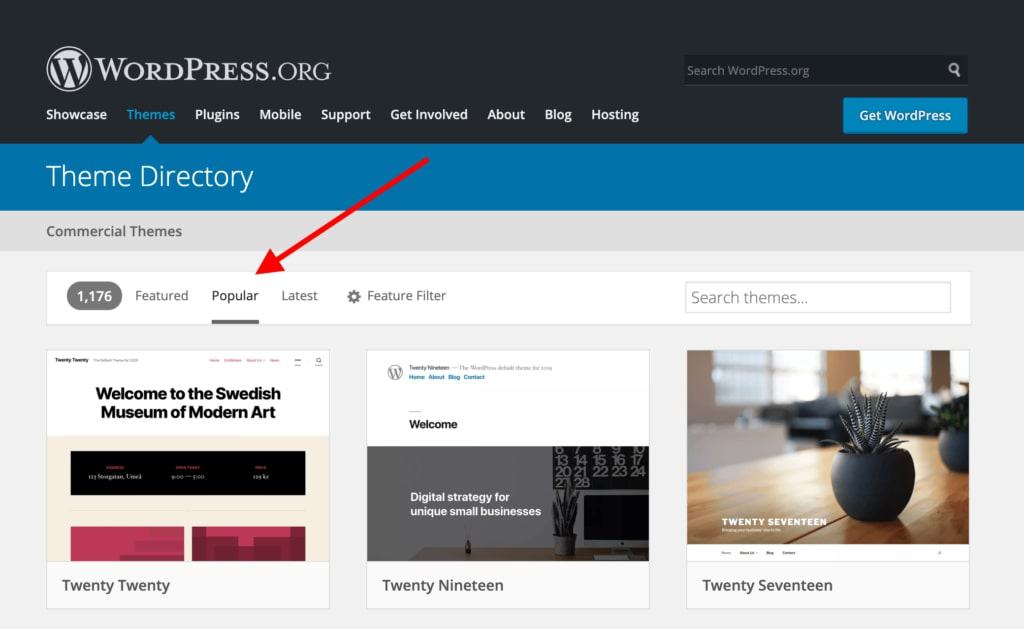 If you want to get a free theme – which is where most people like to start – the best place to go is the official theme directory at WordPress.org. Particularly, the section for the most popular themes.
All themes that you see there are quality proven and have large user bases behind them.
You are free to browse through that list and pick any theme you fancy but to speed things up for you in this guide, we recommend Hello Theme. It's a blazing-fast, naked theme that is built for maximum compatibility with Elementor (The best page builder in WordPress).
We're going to use that theme in this guide going forward.
2) Install the Theme You Like
Go to your WordPress admin interface. You can find it at YOURSITE.com/wp-admin. Use the username and password you got during WordPress installation.
From the sidebar, go to "Themes → Add New."
In the search box, type in "Hello" and click on the "Install" button next to the theme's name:
After the installation is done, click on the "Activate" button that will appear in place of the "Install" button.
You'll see a success message, which lets you know that the installation went as expected.
3) Add a Logo
The first thing that most users want to do is upload their logo and have it displayed in the top left corner of the site. Let's do that now.
You can DIY a logo or you can hire a freelancer off on Fiverr and get a logo designed professionally from just $5.
Once you have a logo ready, you can add it to your site. Go to "Appearance → Customize → Site Identity" and click on the box labeled "Change Logo."
Here's what you'll see: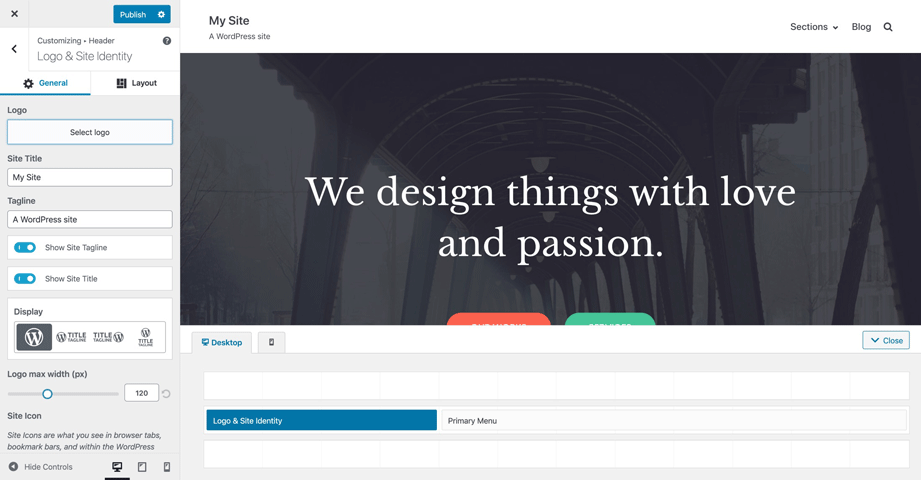 This interface is called the WordPress Customizer, and it allows you to edit various aspects of your website's appearance. For starters, you can upload your logo. To do that, click on the "Select Logo" button that's near the top left corner.
WordPress will give you an option to crop the logo, but you can skip this step if necessary.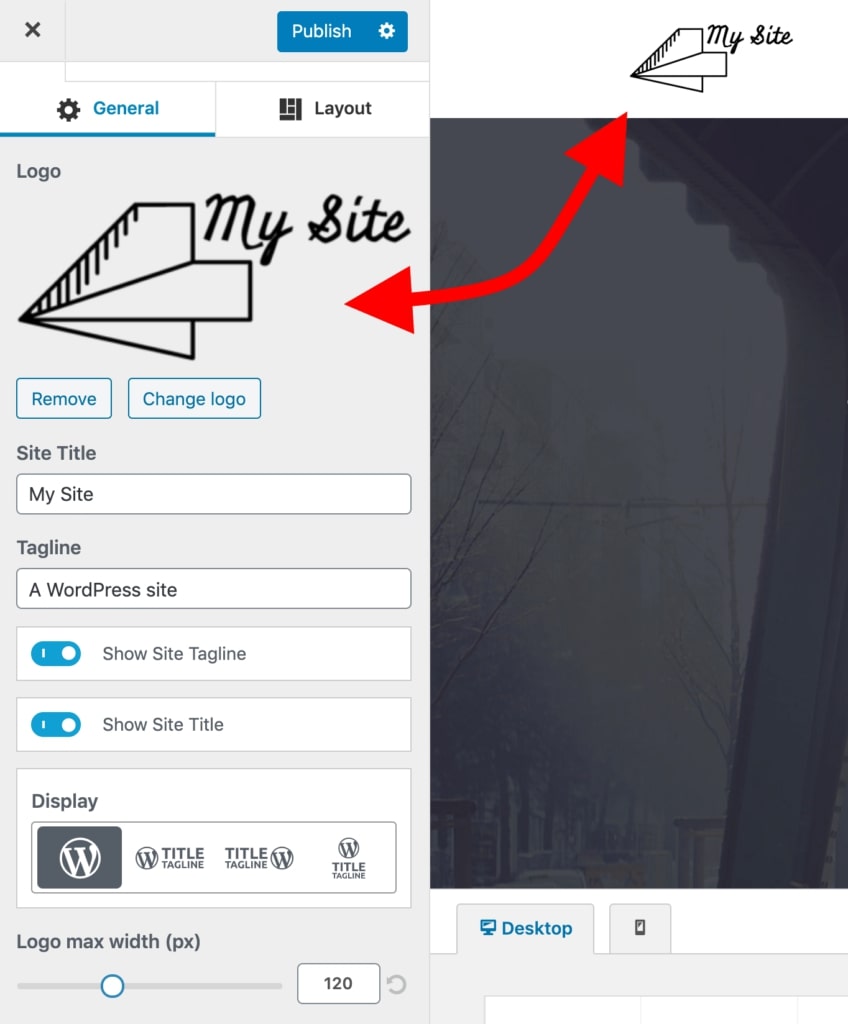 You should see your logo in the corner of the page shortly.
Additionally, you can choose if you want to display the site name and tagline alongside the logo, and set the max-width of the logo. Experiment with these settings and pick what works best for you.
Click on the "Publish" button when done (the top left corner), and then click on the "X" button to exit the Customizer.
You've now customized the basic appearance of your website. Easy right?
Step 5 : Adding Contents/Pages to your website.
Pages are pretty much the bread and butter of your website. It's pretty difficult to imagine a website without any pages on it, right?
From a technical point of view, a web page is literally a document on the web. It's not much of a difference from the traditional Word document apart from it having your website's branding elements such as the header and footer.
Web pages are extremely easy to create and customize using Elementor in WordPress. But before we get into the how-to, let's discuss what pages you should create first.
To begin with, All websites should have these essential pages :
Homepage – it's the first page that your visitors see when they go to your website
About page – a page explaining what your website or business is about
Contact page – a page that allows your visitors to get in touch with you or your sales rep.
Blog page – a summarised list displaying your most recent blog posts; if you're not planning on blogging, you can use the blog page as a place for your company news and announcements
Services page – if the website you're building is for a business, use this page to showcase your services
Shop page – for companies that want to launch an eCommerce store
Many of the pages above are very similar in structure – the only difference being the content on the actual page. In other words, when you have learned to create one page, you'll know how to create them all. With that, there is some nuance here, so let's now cover how to create a couple of basic types of pages:
1) Install Elementor
In your WordPress Dashboard, Look at the left sidebar and select "Plugins" → "Add New" and type "Elementor" on the search bar. 
Elementor is what we call a page builder. It allows you to edit your website with a live preview. Say if you want to edit the size of a header, just click on the header and start modifying.
2) Creating a Homepage
If you're using Hello, your homepage will look something like this:
You can edit the structure of this page as well as the elements on it (all texts and images).
To do that, just click on the "Edit with Elementor" button in the top bar. 

What you'll see is the interface of the Elementor page builder.
With Elementor, you can easily add or remove widgets or elements on your website simply by dragging the widgets from the panel to the main screen. For example, we'll drag the "Heading" widget to the dashed box to give the website a headline.